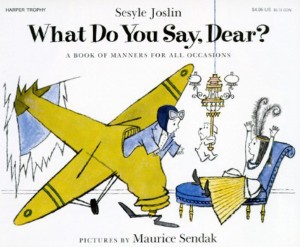 The desk where I work at the library is a teaching place as well as a finding place. Parents push their children forward, "Now tell the librarian what you need." And I ask them, "What can I do for you today?" And so the children learn to articulate their questions, to explain assignments, to interact with an adult, and to be bold. Sometimes they are tiny children who want a picture stamped on their hands. Sometimes they are children who are just learning English and who have come to practice on the friendly children's librarians. Sometimes they are cranky children who resent their parents and their teachers and every other grownup who participates in the Worldwide Adult Conspiracy. And almost always they are children who are learning the proper use of please and thank-you.
We've been running a game in the library this week. Our library elf, Eugene, hides in the children's section and young people who find him get a small treat. The 2- and 3- and 4-year olds come running out of storytime to search for the elf and collect their prize. Such excitement! Any fear they may have felt at approaching the desk disappears in their triumph.
"I found the elf! I found the elf!" one little girl exclaimed.
"And what do you say?" prompted her mother as she picked a lollipop out of the basket.
"Yum!"