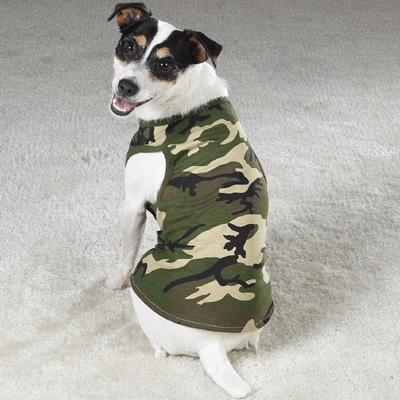 Camo is the new Tie Dye. It's everywhere: camo print shirts, camo print pants, camo backpacks, camo bedsheets (do these disguise the bedroom or just the clutter?), even camo Easter eggs (for X-treme hunts!), Camo comes in Forest, Desert or Urban Jungle, Blue or Pink, Brown or Green, Black and Grey.
But here's my question: what does it mean? When I was a kid, folks who went hunting, or soldiers, or little boys who dreamed they were soldiers wore camoflauge. Now everybody wears it—on fashions that don't look remotely like hunting gear or army surplus. Hard Rock Barbie wears camo ("Hard Rock's Barbie® Pink steals the spotlight in a pink camouflage ensemble with skull and crossbone motif. She's not your mama's Barbie®!") Babies can be fashionable in their "camonesies." Even your dog can get a camo tank top.
Fabric patterns and prints are like wearable fonts-they convey a mood, an attitude. Is this communication a Comic Sans MS moment, or is Times New Roman more appropriate? How would you have to feel to wear a Houndstooth Check? Argyle? A Burberry Plaid?
People are talking all the time—even when they don't speak a word. So what does it mean when a nation moves from tie dye to camo?