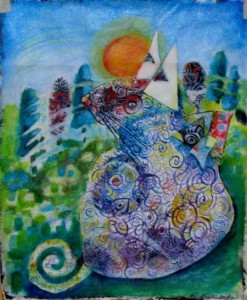 I like to watch people work.  I like to see how they make things.  I like to see their hands molding and cutting and shaping.  I like to see their minds made manifest through their actions.  I like to see a new thing created, a broken thing repaired. I like to see a process unfold.
I want to know, "How did you do that?"  "What chords did you play?"  "What spices did you use?"  "How do you work that thing?" And while I always have questions, it's not entirely about the "how-to."  For me, watching people work can be like following a skier down the slope: you feel the doing; you lean as they take the curve.  At other times, it's like watching a great conductor give shape to thought and sound—it's a way in.
There is marvelous pleasure to be had in watching people do something well.  You get to know them a bit.  Lately I've been peeking in on my friend Elizabeth Seaver's artistic processes over at her blog.  Elizabeth is always turning things over.  Reworking them.  Trying new media.  Mixing things up.  I hope you'll take a look; click around a bit.  Watch her work.